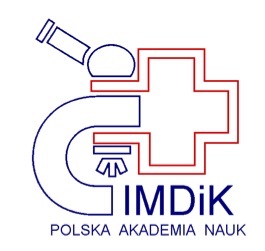 We are looking to appoint a highly motivated postdoctoral fellow joining a multidisciplinary research project ("Advanced ocular drug delivery system for preclinical research" ANODE, LIDER/39/0215/L-10/18/NCBR/2019) in the field of molecular and cell biology, cancer animal model, experimental ophthalmology, bioimaging, bioengineering and material science. The main goal of this project is to develop advanced new system for administration of therapeutic substances to selected eyeball tissues with microelectrodes. The system will be used in ophthalmic preclinical research. The system will increase the topical permeability of eyeball tissues for therapeutic substances. Presently, biovailability of drugs administered intravenously is limited by several barriers including: blood-retina barrier, blood-aqueous barrier or blood-vitreous barrier. Topical application (e.g. eye drops) is limited by substantially short time of drug contact with the surface of eyeball, the substances also has to penetrate sclera or/and cornea.
The postdoctoral researcher will be responsible for establishment of animal model of uveal melanoma, cell culture experiments and molecular analysis of uveal melanoma cells.
 Applications should be sent to Dr. Michal Fiedorowicz This email address is being protected from spambots. You need JavaScript enabled to view it. The application deadline is 10/09/2020 (October 9th).
 Benefits
Salary ca. 1600 EUR/per month (gross)
 Eligibility criteria
PhD in Biology, Medical Sciences, Pharmacology, Biotechnology or similar.
 Publication record in biomedical sciences.
 Selection process
Candidates should send CV, cover letter, copy of PhD degree certificate, pdf version of the PhD thesis, publication record with full text of three most important papers. Applications should be sent to Dr. Michal Fiedorowicz This email address is being protected from spambots. You need JavaScript enabled to view it.
 The selection process will be based on relevance and quality of research experience and publication record.
 Additional comments
Candidate must be ready to allocate to Warsaw, Poland for three years. Fluent communication and writing in English is required.
 Skills/Qualifications
-          PhD in relevant wet-lab subject (e.g. cell culture, animal models, experimental ophthalmology, experimental oncology etc.)
-          Experience in animal cell culture
-          Understanding of ethics of working with experimental animals
-          Experience in manuscript preparation
-          Experience in data analysis, experiment planning, statistical analysis
-          Age under 35 (as for March 2019), plus e.g. parental leaves (in case of doubts, please contact the PI or refer to regulations published by the funding agency https://www.ncbr.gov.pl/programy/programy-krajowe/lider/lider-x-edycja/materialy-do-pobrania/ )
If you are strongly interested in the position but don't meet one or more criteria, please address it in your cover letter and explain how your skills differ from abovementioned criteria and how you skills would enrich our research.
  Please provide:
-          Publication record in the relevant field indexed in Web of Science core collection
-          Cover letter
-          CV
-          Pdf version of the PhD thesis
-          MSc (or relevant) and PhD diploma copy