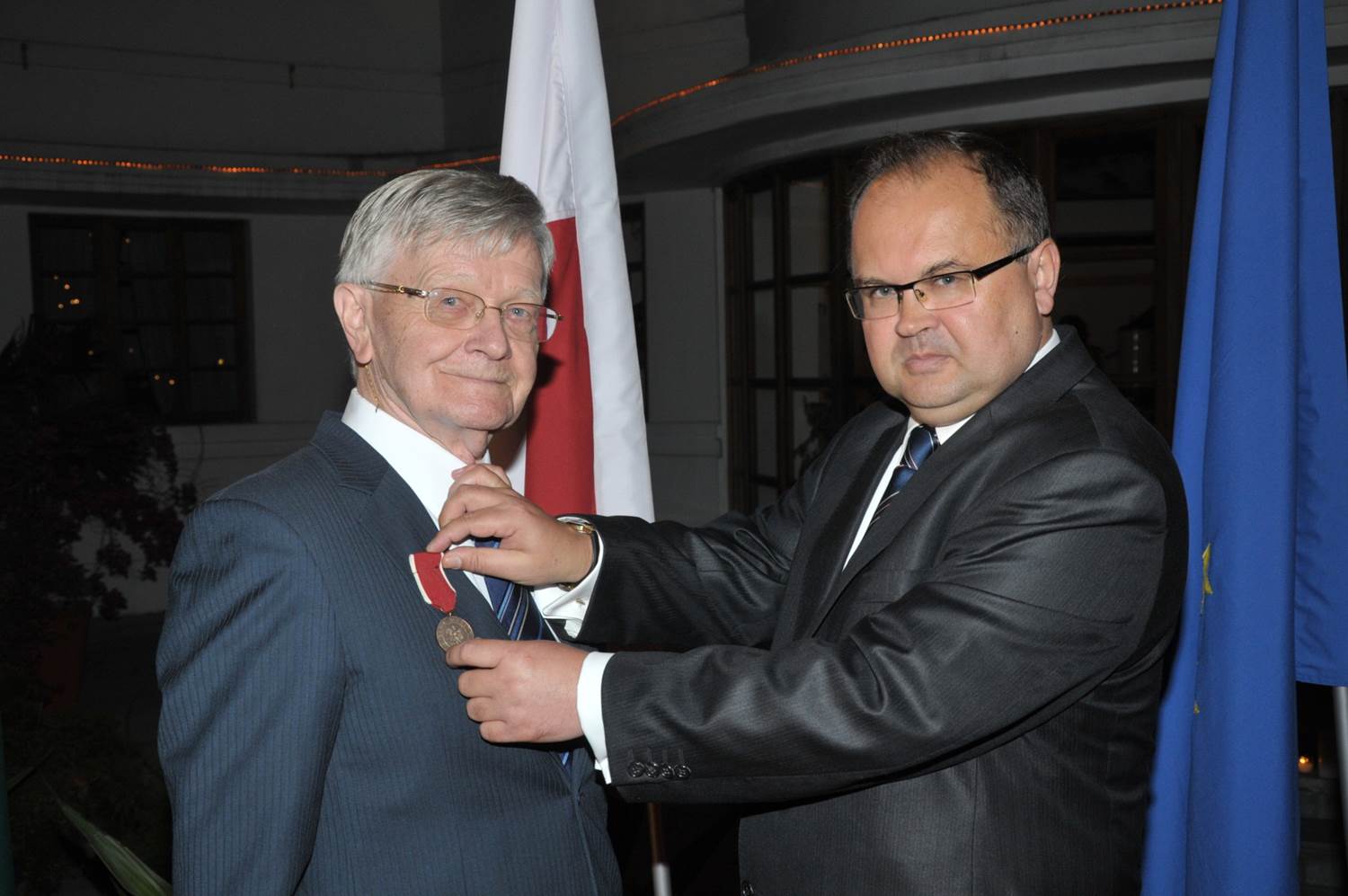 Professor Waldemar Lech Olszewski was awarded by the Minister of Foreign Affairs Mr Radoslaw Sikorski the distinction BENE MERITO for promotion of the position of the Republic of Poland abroad by conducting medical research and joint publication with foreign scientists. Cooperation with countries as India, Norway, Italy, Germany and Egypt was based on the agreement signed by the Polish Academy of Sciences with academies of these countries.
The distinction ceremony took place at the Embassy of the Republic of Poland in New Delhi. In the laudation speech the Ambassador Professor Piotr Klodkowski outlined the Professor Olszewski's contributions to medicine in India and other countries, and specifically the diagnostic and therapeutic methods in the pathological changes  of the human lymphatic system. The most valuable were the new policy of long-term administration of low doses of antibiotics and microsurgery of the lymphatic vessels, known and practiced in many countries. He underlined the role in promoting Polish medicine by the monographs on the function of the lymphatic system published by Professor Olszewski in the USA. Moreover, unprecedented was the establishment of so many cooperating groups in various countries working and publishing together under the guidance of Professor Olszewski. Professor P Jain underlined in his speech the value of integration of Polish and Indian research groups despite of distance seperating the two countries.
The ceremony was attended by the President of the Indian Academy of Sciences Professor L.Lal,  Secretary of state of the Polish Foreign Ministry,  the Ambassador of Italy as tribute to Professor's Olszewski doctorate honoris causa of the Genova University, the ambassadors of Greece and European Union, representatives of other embassies, Director of Surgical Departments of the All India Institute of Medical Sciences Professor M.Misra, Professor P.Jain Director, Dept. of Plastic Surgery, Benaras Hindu University, Varanasi, medical professionals and scientists from India, and representatives of medical industries.
Thanking for the award, Professor Olszewski stated that medical science has no motherland, research should be conducted by international teams and results should find fast implementation in medical practice. Researchers should confront results in direct contacts with patients and not complete their projects with publications only. India or USA are countries where awareness of practicality of results of medical research is well understood. This is why cooperation with scientists of those countries is so prodigious.
The award ceremony was followed by a lecture of Professor Olszewski entitled Intercellular fluid- its hydromechanics and composition in patients with edema of limbs. Later a 4 hours workshop was devoted to this subject. Professor Olszewski also performed instructional operation in patients with lymphedema in the program of Continuing Medical Education.
To find more informations please visit the website of The Embassy of the Republic of Poland in New Delhi - here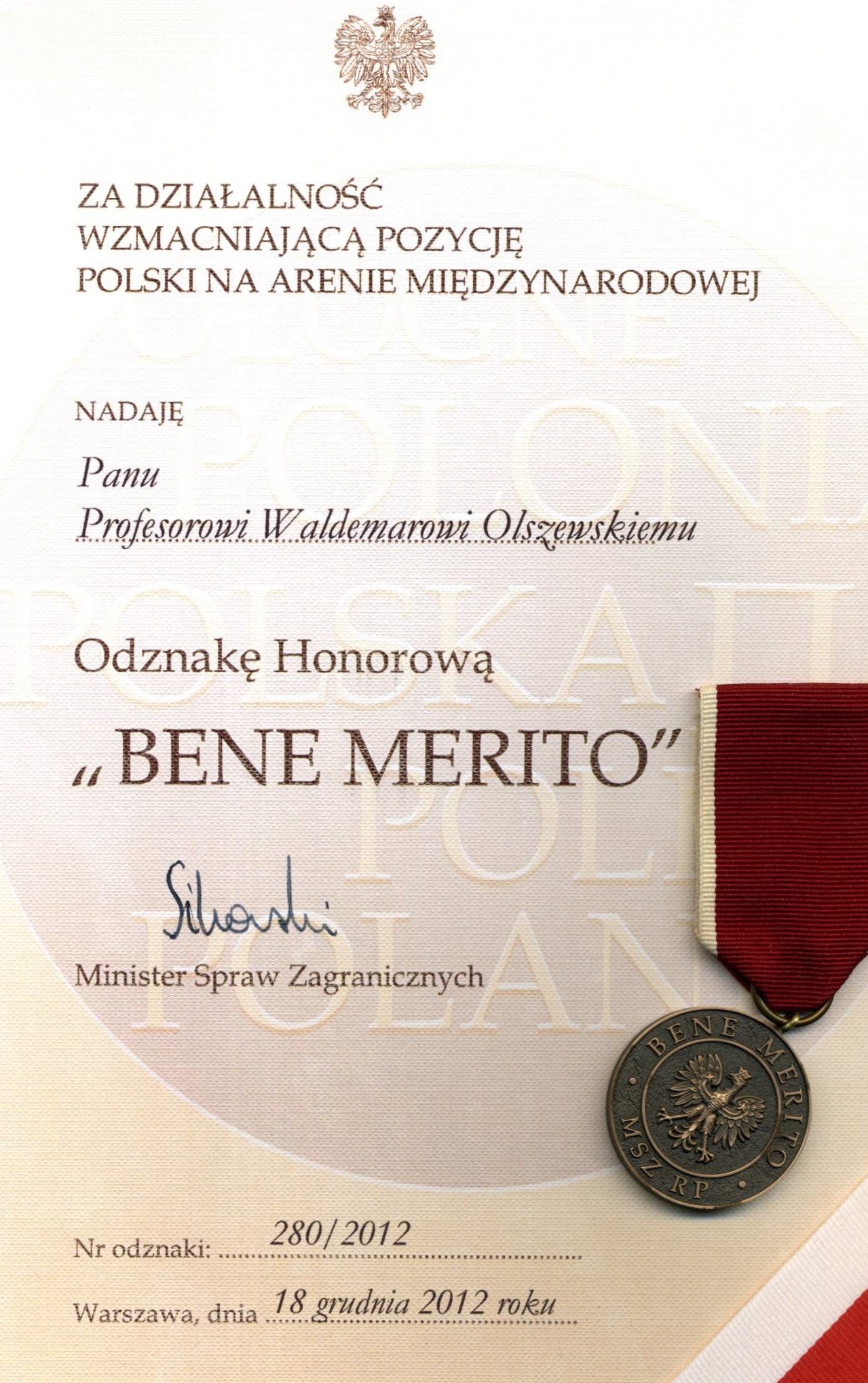 Ambassador of the Republic of Poland Mr. Piotr Kłodkowski decorates Prof. Waldemar Lech Olszewski with Bene Merito distinction