Laboratory of Advanced Microscopy Techniques
5 Pawiinskiego Str; 02-106 Warsaw
Biulding D, rooms: 006 a-c
phone. +48 22 60 86 589,
e-mail: This email address is being protected from spambots. You need JavaScript enabled to view it.
Head:
Hanna Kozlowska, PhD - phone: +48 22 60 86 589,
This email address is being protected from spambots. You need JavaScript enabled to view it.
Staff:
Magdalena Lachwa-From, MSc - phone: +48 22 60 86 589, This email address is being protected from spambots. You need JavaScript enabled to view it.
We offer the most technologically advanced equipment such as:
Cell Cut Plus (MMI) Microdissection System for inverted IX71 microscope (Olympus Co)

Cell Obsever SD (Carl Zeiss Inc) for long-term confocal live cell imaging (Carl Zeiss Inc)

LSM 510 Confocal Laser Scanning System (Carl Zeiss Inc)

LSM 780/ELYRA PS.1 Confocal Laser Scanning System (Carl Zeiss Inc)
These facilities are capable of producing extremely high-quality digital images with a resolution close to the theoretical limit of light microscopy (LSM 510 and LSM 780), or even exceed them (ELYRA PS.1). Now without any difficulties you are able to analyse cell morphology and tissue cytoarchitecture and as well as study molecular mechanisms occurring at the level of individual particles in vitro and in vivo. In addition by offering the highest quality hardware and software we make these systems more efficient and we simplify imaging process.
Our Mission isto help our customers to resolve their scientific question by choosing the most proper method, obtain most satisfactory results and finally help to generate the highest quality microscopy-based data. Our range of services is available for both beginners and experienced users. Experienced users can use the equipment unassisted during office hours. New users are required to attend training course. We also offer a wide range of support to assist our users with different problems. Our staff can assist the users with training, instrument setup, data acquisition, data analysis, and/or troubleshooting according to individual needs.
Image Gallery (.pdf)
Download logo (.png)

Price list in LAMT (.pdf)
Equipment:
Cell Cut Plus (MMI) Microdissection System for invertedIX71 microscope (Olympus) - The CellCut system offers precise and reliable laser microdissection/micromanipulation for applications in molecular biology, cytogenetic, molecular medicine, pathology, and forensic medicine. The system is based on the patented contamination free membrane and CapLift technology. Single or multiple samples can be collected with adjustable contact pressure using the new plug and play automated CupLift. The progressive scan CCD CellCamera delivers outstanding image quality which – in conjunction with the intuitive UVCut Plus software – facilitates the precise drawing of cutting paths into the live image. Functional integration of the inverted IX71 microscope allows full motorization of the system.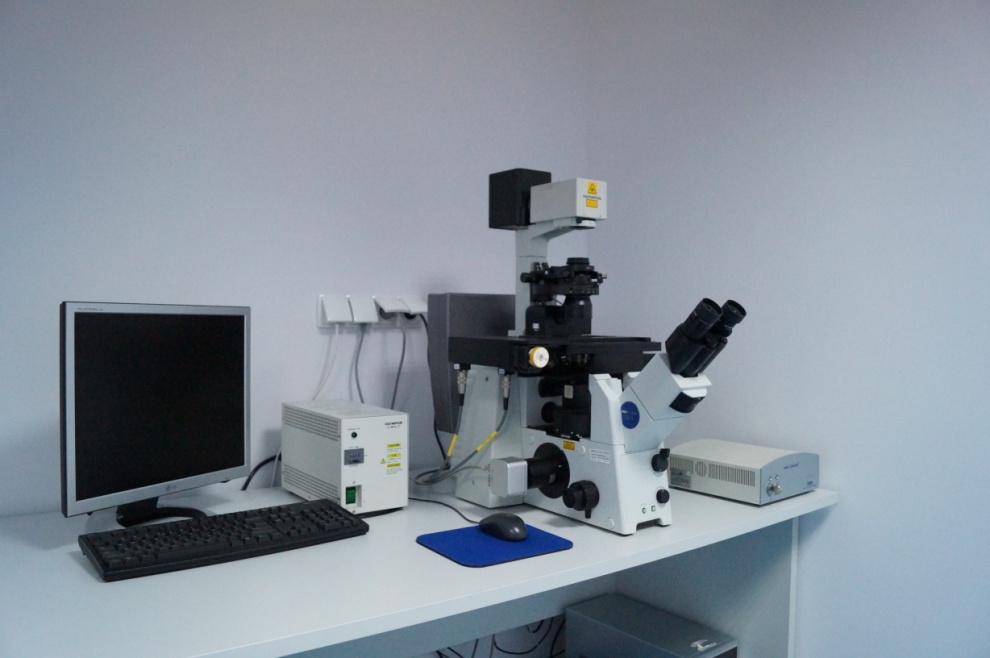 Cell Observer SD – inverted AxioObserver Z.1 microscope with incubator XL, incubation system O2 – CO2 – oC, CSU-X1 spinning disc,  4 diode lasers (405nm, 561nm, 633nm, 488nm), two optical tracks integrated with two cooling EM CCD (dual camera system), Colibri.2 light source with four LED modules, each producing monochromatic light of a different wavelength (365nm, 470nm, 540-580nm, 590nm), illuminator HXP 120V, AxioCam MRm camera for standard fluorescence acquisition, Definite Focus, wide assortment of high quality objectives with both short and long working distances. Software: ZEN 2012 blue edition, Tiles/ Positions and Experiment Designer modules, High Content Analysis - ASSAYbilder

CSU-X1 spinning disc technology from Yokogawa, Dual Camera and Definit Focus

CSU-X1 spinning disc technology is based on a tandem-disc system containing a microlens array and a Nipkow disc. This guarantees maximum scanning speed and light efficiency, as well as outstanding reliability. Bleaching and phototoxicity are reduced to a minimum. Besides extremely high frame rates and a fast filter wheel, the new Yokogawa CSU-X1 scanhead and a Dual Camera option are the ideal for high-speed, confocal image acquisition.
Definite Focus is specially designed for fluorescence applications and time-lapse experiments under live cell conditions. Definite Focus effectively counteracts drifting in the Z-direction. Definite Focus uses the infrared light of an LED to sense the path length between the objective and the bottom of the culture vessel, and corrects the focusing, if necessary, via the Z control of Axio Observer.Z1.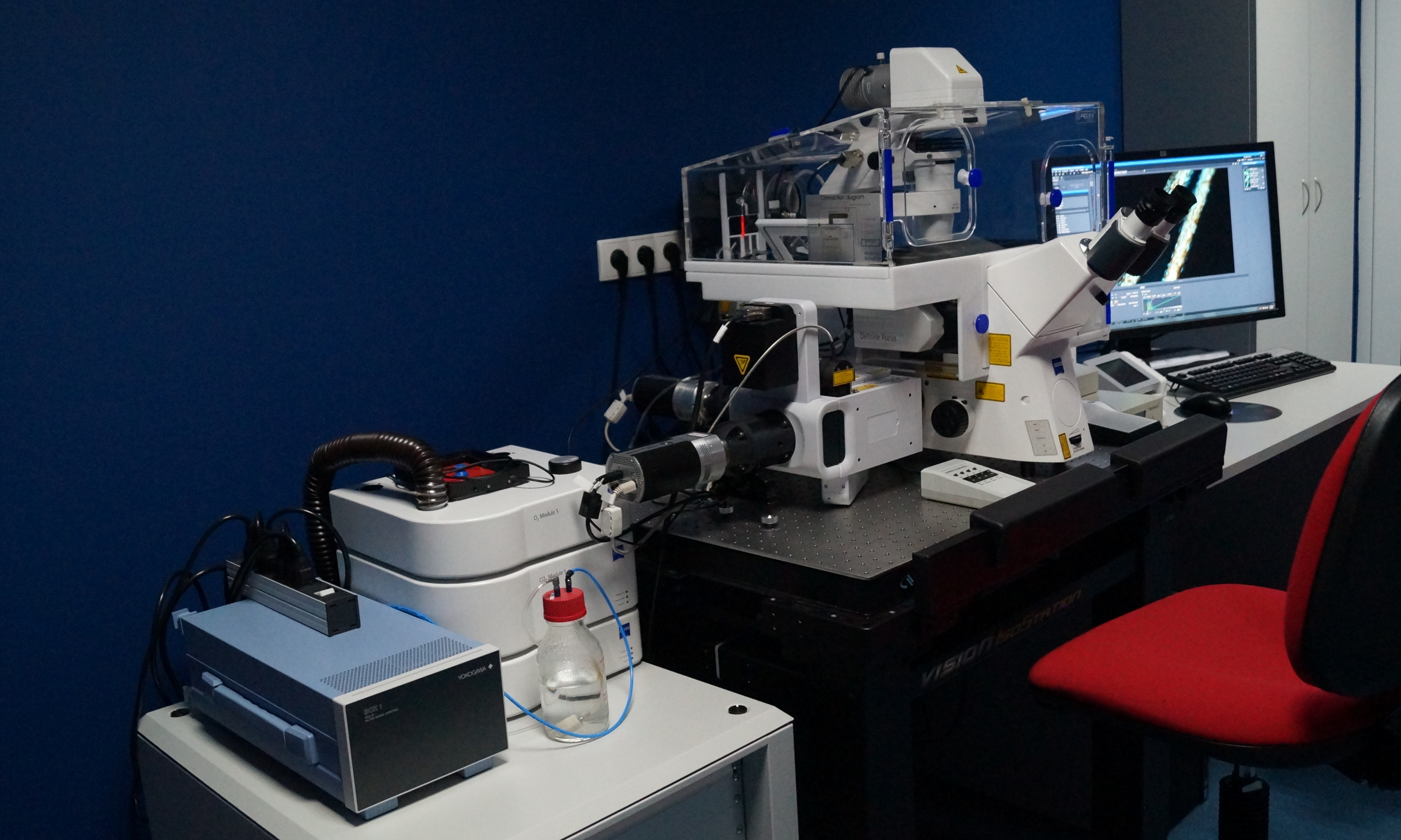 System LSM 510 - inverted Axiovert 200M microscope with 4 single photon lasers (UV, Ar, HeNe 543, HeNe 633), which allow to select lines of 405, 458, 488, 514, 543, 568, and 633 nm, wide range of standard and oil immersion objectives, simultaneous 3-channel fluorescence and DIC imaging, incubation CO2 chamber, heated stage, digital camera AxioXam HRm Rev.2., Software: Zen 2011 black edition.
System LSM 780/ ELYRA PS.1 – inverted Axio Observer Z.1 microscope, confocal module with 34 spectral detection channels via 32-Ch GaAsP detectors plus two PMTs, 4 lasers (diode 405nm, solid-state laser 561nm, HeNe 633nm, multi-line Ar 458/488/514nm), wide assortment of high quality objectives with both short and long working distances, piezo scanning stage for advanced tiling capabilities. Super-resolution module ELYRA PS.1 equipped with 4 lasers (diode 405 nm, solid-state 561 nm, solid-state 488 nm, solid-state 642nm), integrated two methods of super-resolution into one, turn-key platform (SR-SIM - super-resolution structured illumination, and PAL-M - photoactivated localization microscopy), two deep cooling EMCCD cameras dedicated super-resolution registration. Software: Zen 2012 black edition, Tiles/Positions and Experiment Desinger modules.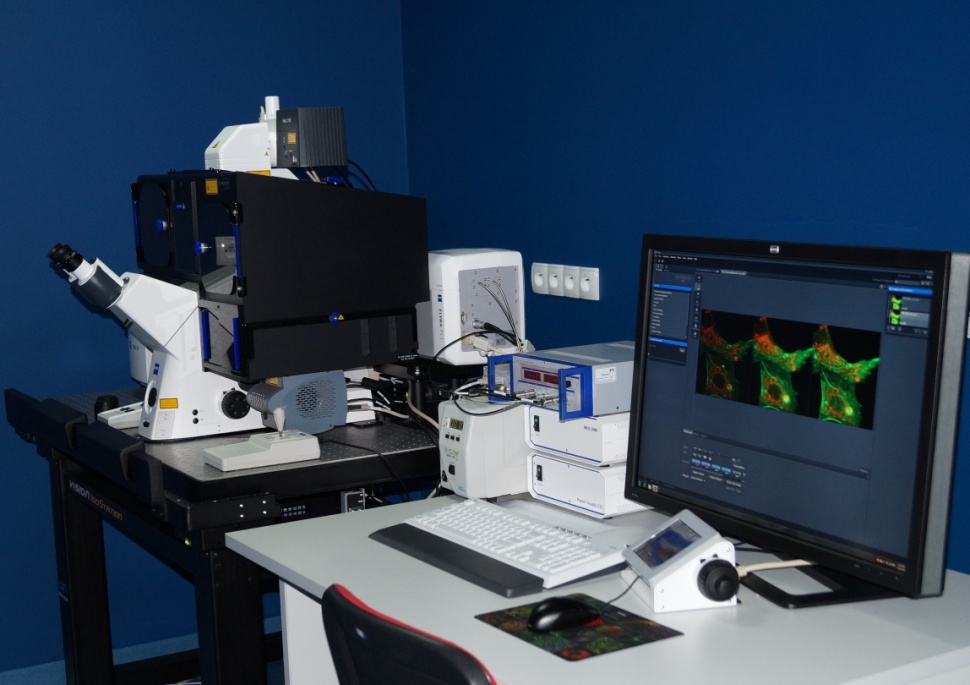 LSM 780 – Confocal module
The more demanding the application in laser scanning microscopy, the greater your need for sensitivity and reduced background noise. The LSM 780 confocal system is equipped with GaAsP spectral detector. The group of 32+2 detectors allows you to reproduce spectral measurements reliably and without deviation. Since this is a parallel spectral detection design, it offers you simultaneous 34-channel readout in lambda mode. Up to 10 dyes can be acquired and separated at the same time. Additionally, it allows the measurement of weak signals and to count individual photons.
LSM 780 – ELYRA PS.1 module, new system integrated SR-SIM and PAL-M super-resolution methods
Lateral resolution can be increased over the classical Abbe limit by a factor of two (approximately 100 to 120 nanometers) in structured illumination without discarding any emission light using laser-generated spatially structured illumination coupled to a wide field fluorescence microscope in what is termed Super-resolution (SR) SIM. Linear SR-SIM wave fronts render normally inaccessible high-resolution information available in the form of moiré fringes that contain harmonic frequencies from the specimen that are not available in conventional fluorescence microscopy. Thus, if two fine patterns are superposed in a multiplicative fashion, a beat pattern (moiré fringes) will appear in their product. In this case, one of the patterns is the spatial fluorophore distribution in the specimen and the other is the structured excitation light intensity.
Photoactivated localization microscopy (PALM) is a super-resolution technique that dramatically improves the spatial resolution of the optical microscope by at least an order of magnitude (featuring 10 to 20 nanometer resolution), which enables the investigation of biological processes at close to the molecular scale. The technique relies on the controlled activation and sampling of sparse subsets of photoconvertable fluorescent molecules, either synthetic or genetically-encoded.
LSM780/ELYRA PS.1 system provides total internal reflection fluorescence (TIRF)registration. Often referred to as evanescent wave microscopy TIRF is proving to be a powerful technique for examining phenomena occurring at the plasma membrane in living cells and for imaging single molecules. Novel applications have concentrated on single-molecule detection (e.g. of cellular receptors), imaging of exocytosis or endocytosis, measurements of adhesion foci of microtubules, and studies of the localization, activity and structural arrangement of specific ion channels.
More information on these methods:
http://zeiss-campus.magnet.fsu.edu/articles/superresolution/index.html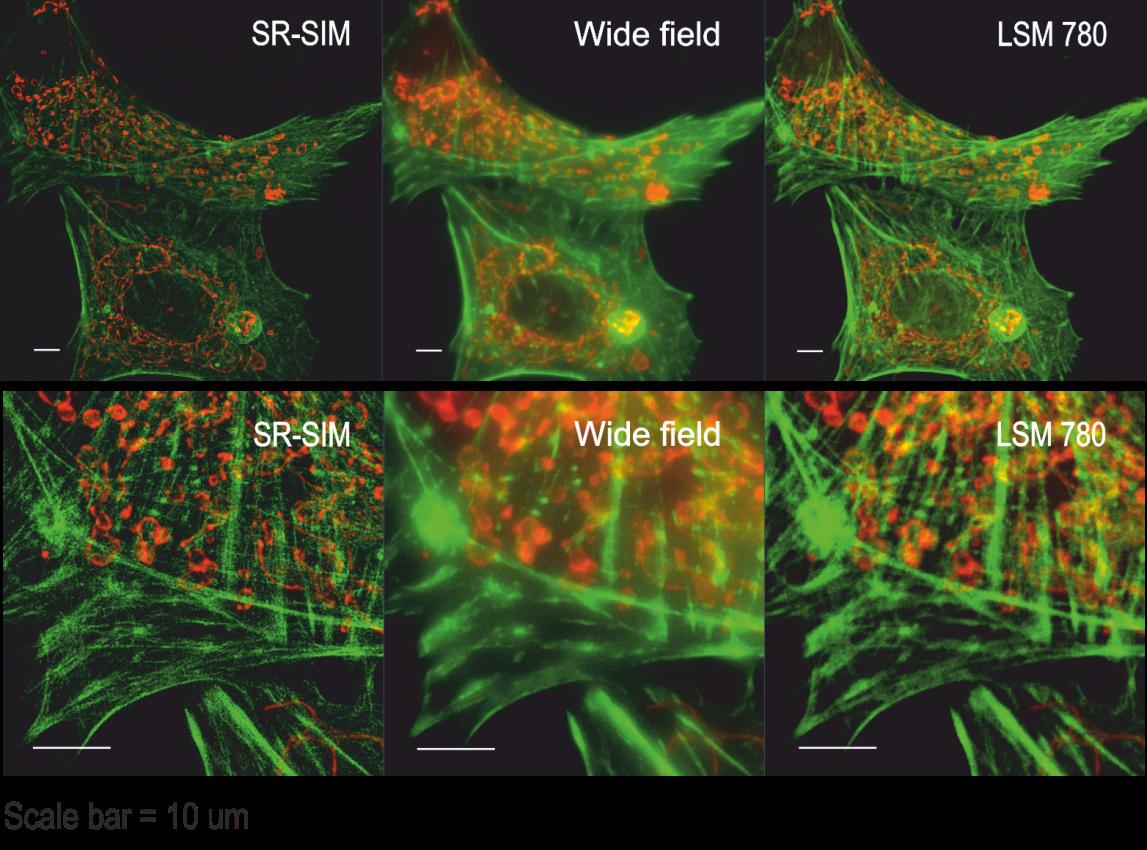 In Laboratory of Advanced Microscopy Techniques it is possible to observe optically section whole specimens, cells and small organisms, or very thick sections from brain and other organ tissues that have been tagged with fluorescent probes (single or multiply labeled). We have 10 years' experience of confocal imaging in mammalian cells, sections of brain and other tissues, in both fixed and live specimens.
Sample Applications:
Multifluorescence imaging in cell and molecular biology, including co-localization analysis and simultaneous spectral imaging of fluorescent proteins. Detecting fluorescence of up to three fluorophores simultaneously, using the three separate detection channels.

Optical sectioning in any plane through a specimen by generating a "z series" of images throughout the depth of the sample. 3D images can also be reconstructed from the data generated by a capturing a "z series".

Analysis of fluorescence in living cells, including time-lapse studies, ion imaging, dynamic study in live cell  i.e. FRET and FRAP analysis of molecules, including photoactivation and photoconversion. The microscope is equipped with CO2 incubator and heated stage.

VisualizationXY, orthogonal (xy, xz, yz); cut (3D section); 2.5D for time series of line scans; projections (maximum intensity); animations; depth coding (false colors); brightness; contrast and gamma settings; color selection tables and modification (LUT); drawing functions.

Image analysis and operations–co-localization and histogram analysis with individual parameters; profile measurements on any line; measurement of lengths, angles, surfaces, intensities etc; operations: addition, subtraction, multiplication, division, ratio, shift, filtering (low-pass, median, high-pass, etc; also customizable).

Image archiving, exporting and importing - functions for managing images and respective recording parameters; multi-print function; over 20 file formats (e.g. TIF, BMP, JPG, PSD, PCX, GIF, AVI, Quicktime) for export
Selected publications:
Janowski M, Jablonska A, Kozlowska H, Orukari I, Bernard S, Bulte JW, Lukomska B, Walczak P. Neonatal desensitization does not universally prevent xenograft rejection. Nat Methods. 2012, 9(9):856-858.

Gornicka-Pawlak el B, Janowski M, Habich A, Jablonska A, Drela K, Kozlowska H, Lukomska B, Sypecka J, Domanska-Janik K. Systemic treatment of focal brain injury in the rat by human umbilical cord blood cells being at different level of neural commitment. Acta Neurobiol Exp. 2011, 71(1):46-64.

Jablonska A, Kozlowska H, Markiewicz I, Domanska-Janik K, and Lukomska B: Transplantation of neural stem cells derived from human cord blood to the brain of adult and neonatal rats. Acta Neurobiol Exp 2010, 70(4): 337–350.

Janowski M, Gornicka-Pawlak E, Kozlowska H, Domanska-Janik K, Gielecki J, Lukomska B. Structural and functional characteristic of a model for deep-seated lacunar infarct in rats. J Neurol Sci. 2008, 273(1-2):40-8.

Kozlowska H, Jablonka J, Janowski M, Jurga M, Kossut M  and Domanska-Janik K: Transplantation of a Novel Human Cord Blood-Derived Neural-Like Stem Cell Line in a Rat Model of Cortical Infarct. Stem Cells and Dev 2007, 16:481–488.

Zieminska E, Stafiej A, Pitsinos EN, Couladouros EA, Moutsos V, Kozlowska H, Toczylowska B, Lazarewicz J: Synthetic bastadins modify the activity of ryanodine receptors in cultured cerebelar granule cells. NeuroSignals 2007, 15(6):283-292.

Ziemińska E., Matyja E., Kozlowska H., Stafiej A., Lazarewicz J.W.: Excitotoxic neuronal injury in acute homocysteine neurotoxicity: Role of calcium and mitochondrial alterations. Neurochem Int 2006, 48:491-497.
---
Download useful informations: